Hey guys
! Have you ever heard about the crazy boys of
5SOS
?
If you haven't, this is your oportunity to heard something about them. So ,let's start!
This band , originary from Australia , plays pop-rock and pop-punk music
. Their label is Capitol Records with which they are going to released their first album called
"

5 Seconds Of Summer

'(the name of the band)
. And do you know something curious about their name?
The boys decided how to be named during a Maths' lesson( we are sure that they were paying attention to the teacher )
this is why the 5 is put as four vertical lines with another one that goes over them.
They don't have a long career, but they can sing and play instruments quite well that is the reason why we like their music
. It also conteins the most outlandish and crazy lyrics that usually hasn't got nothing in common with their videoclips. Anyway, this is one of the best bands that we have actually found and we wish you enjoy our last entry this year.
FIRST OF ALL , WE ARE GOING TO TALK A LITTLE BIT ABOUT THE BOYS THAT FORM 5SOS








Luke Hemmings
Luke playing his covers at home
A FanFic of Luke
Luke Robert Hemmings was born on the 16th of July in 1996 (Cancer) in New South Wales,
Australia. He went to the Norwest Christian College in which he met Calum and
Michael. Luke has two brother and a dog called Molly . His mother is a Maths teacher. The first video of a cover that he put in his Youtube channel (hemmo1996) was on the 3rd of February of 2011.
Here are some stupid but interesting facts about him:
He says that he is the most responsible of the band and the one that take things more seriously.

He has never seen Titanic ( As me XD ( Andrea ) )

One of his favorite TV shows is How I Met Your Mother

He is the one that eats more ; and his favorite flavor of ice cream is cookies and cream.

His favorite colour is blue and his favorite animal is the penguin( thing that justify his name in Instagram)

Ashton says that Luke gives the best hugs in the band( something too normal...)

He wore garish green sunglasses.

He is the one that is completely Aussie.

He has two older brothers and is an uncle

Everybody is always complaining about how long he takes in the shower, how messy he is and how always steal clothes from the others

Michael says that he is a pro at Science and Maths

Last summer, he graduated while touring and writing their album

He used to be the shortest, but now he is the tallest

Luke and Calum playing

Luke has really old Vans that are wasted, but he always wears them
IN THE BAND...
He sings and he also plays the rithm guitar.


















Calum Hood
Ash and Calum :)
Calum Thomas Hood was born on the 25th of January in 1996( Aquarius) . He is Kiwi and Scottish.
Someothers stupid and awesome facts :
HE IS NOT ASIAN ( we specially dedicate this part to a partner of us)

The first time Luke and Calum met, he was very slim.

He played football ;

Calum went to Brazil because he had been chosen to represent Australia in the football team.

He dropped out to pursue his musical career.

His favorite food is pizza and his favorite flavour of ice cream is chocolate mint.

His sister participated in The Voice.

Ashton says -He is always up for some adventure- , he is a really funny boy that can also do many gestures with his face.

He is really relaxed, even in the most stressed situations.

He just like the cheddar chesse.

He hasn't got hair anywhere in his body (except his head ) and according with the guys , ' Calum has the best phisic appearence' .

According to Michael, Calum is the weirdest in the band but refuses to admit it.

Calum has 3 tatoos: MMXII in one of his collarbones, a feather in the other and a bird with the name of his sister in the arm.

He is very close to his family, specially his sister Mali-Koa.

Calum says that he loves to be naked always he can.
Here you can find more facts about him:
Calum Hood
IN THE BAND...
Calum compose the most songs of the band an he is one of the singers and the bass.
Michael Clifford
Michael Clifford was born on the 20th of November in 1995(Scorpio). He doesn't like his second
name so, we won't put it . He hasn't got any sibling.
And as you will see Michael is probably the most stranger , bizarre and outlandish boy of the band:
He had and he continues having a really long fringe( Calum measured it in 2012 an it was 23.4 cm long!)

Michael is the most obsessed with girls.

His favorite Disney movie is Camp Rock.

He likes Games of Thrones and Frozen

He said that if the band hasn't been named 5SOS , it will be named Bromance.

According to him, his favorite movie in Forrest Gump, though Ashton said it is actually Pursuit of Happinness.

He hates his signature.

Michael's favorite thing about being in 5SOS is getting to meet all the fans.

Michael would rather eat a jar of vegemite than shave

his hair off.

His hair has been a total of 22 differents colors at today 9th of June of 2014, but his original color is blond

He has 3 tatoos: an X in one of his fingers, an anchor in his thumb and to the moon written in his arm.

He says that he feels like a majestic unicorn wuth a big horn, whatever that means

He can't live without his computer and says that you can know everything you need to know about him looking at his historial

Is the one that calls his family the most when they are on tour
Here we have all his different hairs colors
A lot of facts about Michael xD
IN THE BAND...
He sings as well as Calum and Luke and he is the main guitarrist.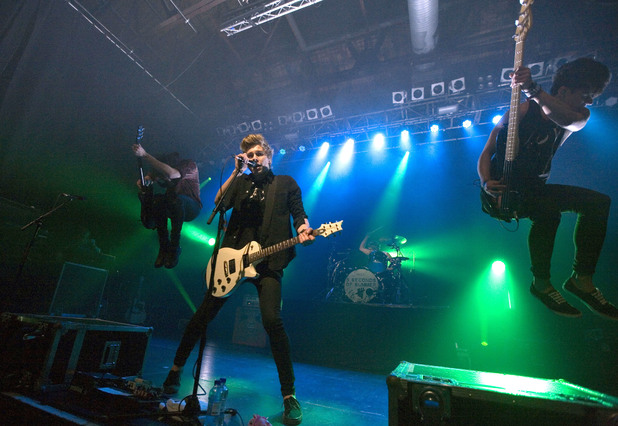 Luke, Calum and Michael during a concert. At the backgroud it's Ashton
Ashton Irwin
Ashton Fletcher Irwin was born on the 7th July in 1994( Cancer ) in Hornsby. He attended and he was graduated in
Richmond High School.
And finally , how is Ashton?
When he went to the first practice with the band , they were all playing FIFA and then , they offered him to play with them, but he didn't like FIFA, so , as Luke said - He almost din't make in the band because he didn't like FIFA- xD

He wore a purple T-shirt and short trousers to the first band practice. Something that the boys didn't like too much.

According to Michael, - Ash has got an award winning smile-

He laughs in 10 differents ways.

He has the rithm in his blood.

He has long fingers and big feet.

He is the oldest guy of the band.

His favorite movie is Pursuit of Happinness.

He used to be in a band called "Swallow the Goldfish"

He is the shortest in the band, even though he is 6ft tall

His biggest fears are needles and hurting his wrists

Curiously, he has faced both of them in the past weeks, he hurted his wrist a week ago and he went to a tatoo parlor to get a tatoo with the symbol of the band

Before being in the band, Ashton didn't like 5sos too much because they were always messing around

He can play piano, saxo, acoustic and electric guitar, drums, bass and he can sing
IN THE BAND...
He doen'st sing to much but he is a very special drummer :)
BUT , HOW WAS THE BAND FORMED?
Their origins
Everything started at the beggining of 2011 , when a 14-years-old Luke Hemmings decided to post covers in his YouTube channel hemmo1996. he knew Michael and Calum because they all were studiying Year 9 at the same high-school but, in that moment, they weren't friend at all. Michael and Calum were best friends, and Luke and Calum liked each other, but they weren't friends because y Luke hated Michael y he used to think that he wasn't '' cool enough to be friends with Calum'' .
But, in Year 10, Michael y Luke started to talk and found out that they have similar musical taste and they became best friends and started to post covers together in YouTube. Nobody really asked Calum to join the band, but he says that he assumed he was in beacuse he was friends with Michael and Luke.
Their popularity started to grow really fast and they were offered to book a gig in the Annandale Hotel in Sydney. Obviously, they acepted right away, but then realized that they needed a drummer, so Michael inboxed Ashton in Facebook, and aking him to join them for the concert.
They say that the concert was completely horrible, but it felt right to be in stage together, so the band continuated with Ashton joining usually in rehersals.
At the end of 2013, the boys decicded to ask Ashton to join officially and 5 Seconds Of Summer was formed!
Little ago, a comic was made explaining how the band was formed and I think is funny so I put it in here.
AND NOW...
5SOS ACTUALLY :)
TOURS
-Tours as opening act
-Hot Chelle Rae
(Whatever World Tour) This was in October of 2012 in Australia.
-One Direction
(Take Me Home Tour) In 2013 they toured for first time with One Direction in Australia, USA, UK and Canada.
-One Direction
(Where We Are Tour) This 2014, they are going to tour with One Direction worldwide.
-Mini Australian Tour
(2012)his one their first ever head-lining tour. They played in Adelaide, Sydney, Melbourne and Brisbane.
-Twenty Twelve Tour
(2012) This was their second tour. An anecdote is that they thought that their manager was too ambicious booking venues for 250 people, but the tour sold out in less than 10 seconds.
-UK Tour
(2014) This was their first tour out Australia, and it also sold out
-5 Countries 5 Days Tour
(2014) Last April, they managed to get 5 days off and made a free mini tour in Europe because they had never toured Europe before. The countries were Spain, Sweden, France, Italy and Germany
-Stars, Striples and Marple Syrup Tour
(2014) This was their first head-lining tour in North-America, even though they had played some acoustics there before.
-There's No Place Like Home
(2014) This is the las tour they have made until the moment. It was the first time they played in Australia in their own since the Pants Down Tour.
DICOGRAPHY
Now , we are going to talk about their discography.
-Too Late
-Gotta Get Out (this song is also in their next EP , but this is an acoustic version)
-I Miss You (cover from Blink 182 )
-Jasey Rae (an acoustic All Time Low's cover)
Their second EP is called Somewhere New
and it conteins these original songs:
This year , it has been released the EP She Looks So Perfect
.
There are a few different formats , with 4 songs each format, but overall there are 8 songs , though 4 of them are different versions of SLSP. The songs are:
-She Looks So Perfect
-She Looks So Perfect (Ash demo Vocal)
-She Looks So Perfect (Mickey demo Vocal)
-She Looks So Perfect (Acoustic)
-Heartache on the Big Screen
-What I Like About You (this is a cover from a band of the 70s-80s called The Romantics)
The EP is called as their new single, Don't Stop and it will have this songs:
-Try Hard (this song has already been heard but this is a new version)
-Wrapped Around You Finger
Like we have said before, this month 5SOS are going to release their
self-titled debut album
. There will be a bunch of
differents formats
around the world, depending if it is the basic version, the deluxe version or the digital one and where do you buy it, but overall there will be around
20 songs
. In this songs we can find
new versions
of older songs,
studio versions
of songs that have only been played live and
new songs
that we haven't heard yet.
HI OR HEY RECORDS
This guys have decided to create his own label in partnership with Capitol Records for all of their fans to be a part of it . This label makes sure that they can control their career ,
that nothing will change and that they will keep working together to make all of their dreams become reality. The official page isn't ready at all, but you can read the message of the guys telling us how it is going to be through this link:
http://5sos-official.tumblr.com/hiorheyrecords
AWARDS
MTV
This last year, 5SOS won the Best Band Award from the MTV Awards and they were as thankfull and touched that they said thanks to the fans that voted them in this amazing way:
5SOS Say thanks to their fans XD
Nickelodeon Kids' Choice Awards
They won the award for the Aussies' Fave Hot New Talent.
5SOS and KCA 2014
World Music Awards
They are nominees to the following awards:
World Best Group
World Best Live Act
World Best Video
World Best Album
&
World Best Song
Billboard Music Awards
5SOS in Billboard Music Awards
5SOS in a photographic session
5SOS live perfomanced the last May, 18 in the

MGM Grand Garden Arena. Thought they didn't participate, and they just sing, they believed it was a real honor to be there , doing what they do the best, being themshelves playing music.
Shorty Awards
This award consists in to reward those bands with a huge social media in those social networks like Twitter , Instagram , Tumbrl , Facebook and more else ; it is because they are a band really connected with their fans and they share playlists, tracks ... They are also informating about what are they actually doing.
Unfortunatly they didn't win this 6th edition , though they were finalists.
INFLUENCIES
The boys say that they were ingluenced originally by
Blink-182

,

All Time Low

,

Green Day

,

Mayday Parade

,

Paramore,

Boys Like Girls,

Busted, Fall Out Boy and Ed Sheeran
But lately, they have discovered new bands like Imagine Dragons or Artic Monkeys that have also influenced their music.
VIDEOCLIPS AND CRAZY VIDEOS!
Now, we would like you to see and hear some of their betters videoclips, una gran cantidad de videos (they are always filming themshelves), and some videos from their concerts that we have decided put here. Enjoy them :)
First of all ,these videos were recorded when the band wasn't created at all. These are somes of their first covers:
-This is a cover from the beautiful song The A Team by Ed Sheeran . In this one , they only happeared Calum and Luke when they were young.
- Cover of Next To You (by Justin Bieber and Chris Brown) with Michael, Calum y Luke.
-And this is the first cover ( Teenage DirtBag ) that they made with their new drummer, Ashton :)
Then
,
Out of My Limiti
.
This is their first single, released on the 19 of November 2012. Con este primer single que también grabaron otro EP llamado
OTHERS SONGS
-
Try Hard
Like a lot of others songs, this songs used to be played only in concerts, but a year ago, they recorded the studio version and made a videoclip for it.
And here we've got the one that made them really popular and well-known
:
She Looks So Perfect
. This is the craziest one!
Their last work, a videoclip of superheroes...
Don't Stop
!
VIDEO DIARIES
These boys enjoy a lot making video diaries , during their concerts or just telling us how is their day by day. They also make some 'Behind the Cameras ( like the first one that belongs to the videoclip She Looks So Perfect) and they also like doing interviews.
-These are ' The Lost Tapes' of the videoclip of Don't Stop that is like and interview with them as superheroes. We don't have many things to said about it , except the fact that it is the funniest video of all, You Won't Stop laughing!!
- The next one is a link to a video from Youtube that was made while they were doing their Tour 5 Countries 5 Days , tasting traditional food from the countries that they visited(France, Spain, Sweden, Germany and Italy )
# 5Countries5Days Food Challenge
"Nearly two years ago on December 3, 2011, we met and formed five seconds Summer. We've been working on some EPIC stuff for # 5SOSBDAY while we've been in LA and decided to make a couple of videos on each of us and it feels like to be in a band together! "
# 5SOSBDAY 2013
IN THEIR CONCERTS
And to finish this section we are going to put two songs sung in their concerts .The first one is Voodoo Doll , and the second song is Good Girls Are Bad Girls (That Haven't Been Caught ) . Then, the next link is from a concert in which they sang Amnesia:


IN THE VOICE , ITALY 5/06/14 SINGING DON'T STOP
AND... AWESOME NEWS GUYS!!
You will know that in every World Cup there is a song of a singer or a band that is associated with it. This year , in the World Cup 2014 there have been many singers like Shakira or Pitbull that have written songs specially to this event.
BUT DO YOU KNOW WHO ELSE HAVE DONE IT?
Yes, you have guessed it!
5SOS has prepared a featuring with the DJ Scott Mills ( and in complicity with BBC Radio ) in which they wear the football equipment of Brazil and at the beginning of the video , 1D appeared.
This song has been really well-welcomed , so some people ( specially those directioners) are asking to change the actual song (one by Pitbull )
We think that this song won't look the best , but it's not the ones that you are always tired of hear for this event ( you know, those horrible ones of reggaeton or the ones in which the girls appeared with few clothes ) so , it is a cool pop-punk song and you know… SOMETIMES IS GOOD TO CHANGE :)
And to end this section, here it is the song that we were talking about. We wish you like it and that you comment if you think it is a good idea to put it as the World Cup 2014's song and why. We will be waiting for you opinions
!!
Cool References
We are nearly finishing and we will like to let you know where we have obtein some of the information
Their official page in which you can find so many news about the band , like their realeased EP , videos , photos , promos , interviews and even a store :
5SOS' Official Page :)
Now, each one of their Twitter and Instagram account , with a lot of crazy videos , photos and others news , in which they published thousands of things each day:
Ashton: @ Ashton5SOS / ashtonirwin
Calum: @ Calum5SOS / calumhood
Lucas: @ Luke5SOS / michaelgclifford
Michael : @ Michael5SOS / luke_is_a_penguin
Next, the link of their official channel in Youtube that , at first belonged to Luke , and in which there are all the videos of the band, incluidind video diaries , music videos , someothers videos with their fans , and in the mobile home . But, the link below this first one is the one of their official Vevo Channel . This is really new, so you won't find many things in it:
5 Seconds of Summer
5SOS' VEVO Channel
For those ones that prefer Facebook , here it is their page on it : 5SOS in Facebook xD
And , then the Official Tumblr of the band.
The last one is the coolest page of all; their page SoundCloud (used to listen to tracks and some playlists) :
Their music in SoundCloud ;))
Andrea
Martínez
Cazorla y
Agustina
Páez
Rueda