Friends
is an American television programme created and produced by Marta Kauffman and David Crane. It first aired on September 22, 1994 on NBC and ended on May 6, 2004. It talks about the lives of six friends -Rachel Green, Monica Geller, Phoebe Buffay, Joey Tribbiani, Chandler Bing and Ross Geller - they live in Manhattan, New York. They live good and bad situations but they are always represented comically. After the great success they had in their country, the programme began airing around the world with the same results, being today considered one of the best programmes in the history of television.
The opening of this programme during all the seasons was " I'll Be There For You " The Rembrandts'. It also had 236 chapters of 22 minutes approximately.
Jennifer Aniston as Rachel Green
: Monica's friend since childhood but in the beginning of the programme they don't see each other in a long time. She is the daughter of wealthy parents and she has two sisters, Jill and Amy. At the beginning of the programme she leaves her fiance at her wedding because she realizes that she doesn't love him. She leaves behind her comfortable life to work and earn their own money. First started as a waitress at Central Perk until she started working in the fashion world. In the programme, Rachel has appeared with a lot of boyfriends but finally she marries Ross.
Matthew Perry as Chandler Bing
:
He has met
Ross
since university
and he use sarcasm all the
time.
He hates Thanksgiving day and also
hates
his job.
He had a traumatic
childhood, finally he
marries
Monica
and they adopt twins.
Courteney Cox as Monica Geller
: she lives in the old apartment of his grandmother and she's Ross' sister. Monica is very competitive and is obsessed with the order and the cleanliness. She works on many restaurant because it's professional chef. The majority of celebrations are done in her apartment. In the seventh season she marries Chandler and they adopt twins.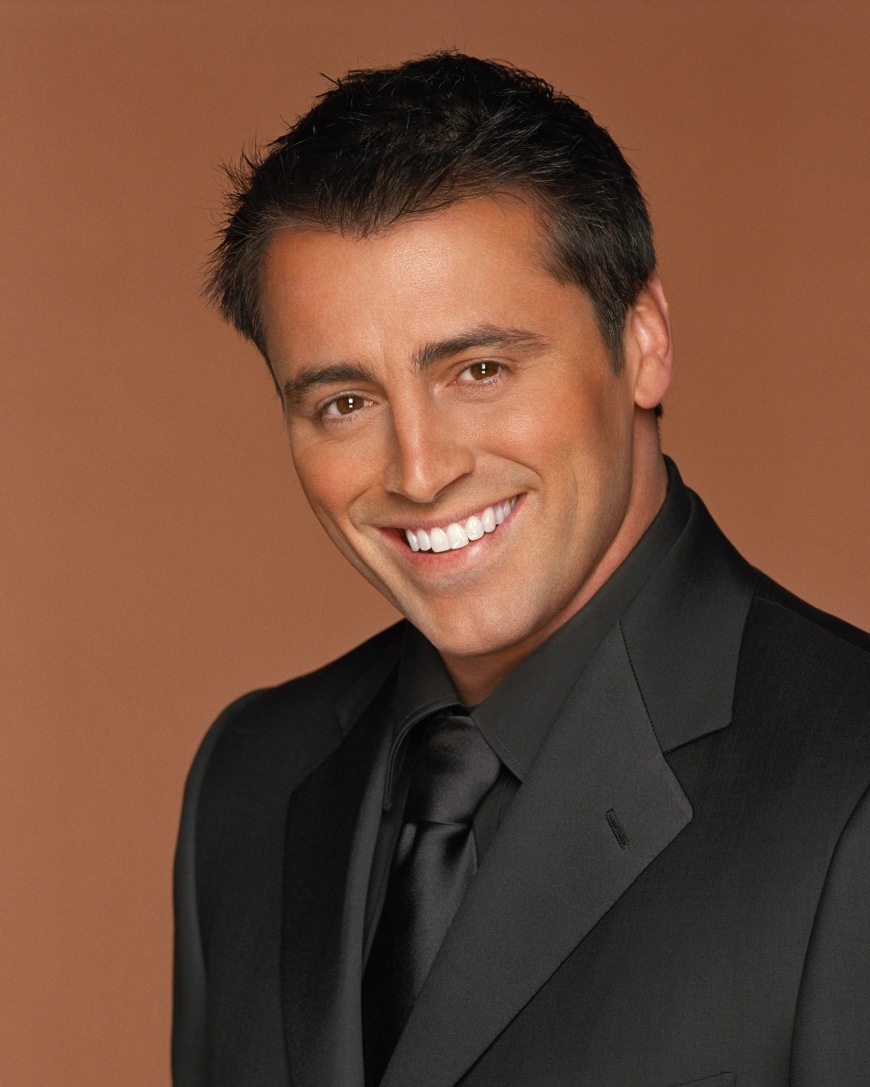 Matt LeBlanc as Joey Tribbiani
:
It comes from an Italian American
family and he has eight sisters. It is
the least intelligent of the group but he
works as an actor. It is a womanizer,
though briefly he falls in love with Rachel.
Lisa Kudrow as Phoebe Buffay
:
She had a difficult childhood. She
is the strangest of the group but she
is very affectionate with his friends.
She is vegetarian. She works as a
masseuse, but she also writes songs
and plays with her guitar in Central Perk.
In the tenth season she marries
Mike Hannigan.
David Schwimmer as Ross Geller
: He is
Monica's older brother. He holds a doctorate in paleontology. He started working in a museum and finished of professor at New York University. He divorced Carol, being pregnant with his future son Ben, when he discovered she was lesbian. He passed many divorces and finally he had a daughter with Rachel, Emma.
At the end of the programme Ross and Rachel end up together with her daughter Emma, Phoebe and Mike get married in the street in front of Central Perk in a night of heavy snow and decide that they want to have children, Monica and Chandler move to a house outside of New York with their adopted children. At the end of the last chapter they decide to go for a coffee together.
There were some announcements about the last chapter that was seen even on a giant screen in the streets of New York. Before the chapter they put a video with images from all seasons and interviews with characters named "The One with all the other ones: 10 years of FRIENDS". Also, this chapter had 65.9 million viewers. This episode became one of the 33 most watched specials in history

The second season was the most watched with 29'4 million viewers.

The series was also aired in Argentina, Venezuela, Dominican Republic, Ecuador, Peru, Chile, Colombia, Paraguay, Uruguay, Mexico, Brazil, El Salvador, Honduras, Nicaragua, Panama, Puerto Rico, Spain, Uruguay, Cuba, Guatemala and Filipinas.

Each of the six characters had a salary of $ 22.500 per episode of the first season. For Each episode of the second season they received $ 20,000 or $ 40,000 The protagonists received a salary of $ 75,000 in the third season, $ 85,000 in the fourth, $ 100,000 in the fifth, and $ 125,000 in the sixth season. In the seventh and eighth season they received a salary of $ 750,000 and $ 1,000,000 per episode for the ninth and tenth season. Each of the protagonists earned between $ 89,975,000 and $ 90,455,000 during all the seasons.